Daryl Terella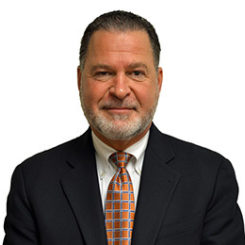 Daryl Terella
Senior Vice President of Passport Realty, LLC
Daryl Terella is Senior Vice President of Passport Realty, LLC with offices in Erie, Pennsylvania. He is responsible for managing and marketing brokerage properties for Passport clients as well as Buyer/ Tenant representation. Born in Erie, he attended Blessed Sacrament Parochial School, Cathedral Preparatory School and graduated from Indiana University of Pennsylvania. He makes his home in Erie and has one child.
Daryl currently serves as a Member of the Board of Economic Development Corporation of Erie County (EDCEC). He is a member of the International Council of Shopping Centers.
Daryl is involved with land acquisition and disposition, development and leasing in the office, retail, hotel and industrial markets. Some of the companies that he has successfully assisted are:
Retail/Restaurant
CVS Pharmacy, Country Fair Convenience Stores, Tim Horton's, Olive Garden, Longhorn Steakhouse, Barnes and Noble, McDonald's, GetGo Convenience Stores, Target, Chick-Fil-A, Dollar General, Hallmark, Family Video and Perkins.
Hotels
Super 8, Quality Inn, Comfort Inn & Suites, Motel 6, Cambria Suites and Holiday Inn Express.
Shopping Centers
Summit Town Centre: 550,000 square foot shopping center anchored by Giant Eagle, Sam's Club, Kmart and John V. Schultz Furniture.
Erie Market Place: 240,000 square foot regional community center anchored by Target, Marshalls and Bed, Bath and Beyond.
Office
Progressive Insurance, offices and services for Erie County, Erie Insurance and Hamot Hospital.
Industrial
Fairview Business Park - Industrial Park located in Fairview Township, Erie County. Assisted in the development of the Park through the Greater Industrial Development Corporation.
Sterrettania Business Park - Located in McKean Township, Erie County. Assisted in the design and development of this industrial park owned by a third party client. In charge of marketing available lots for sale and lease. Assisted owner in attaining LERTA designation (a 5 year tax exemption on all improvements) for the business park. LERTA benefits all occupants of the park.
Assisted in land/building acquisition or disposition for: DHL, Carlisle Corporation, John V. Schultz Furniture, FedEx and Walker Filtration.
Mixed Use
Daryl also has primary responsibility for Edinboro Market Place, located in Washington Township, Erie County, Pennsylvania. This project consists of a 100+ -acre property being developed with retail, hotel, office and residential uses for a private client developer. Daryl assisted the owner with zoning and development plan approvals and is in charge of marketing all acreage and out parcels for sale and lease.
His specific area of concentration is throughout the Tri-State area (Ohio, Pennsylvania and New York). He and Passport Realty, LLC will assist their clients on a nationwide basis, as needed.