Greg Rubino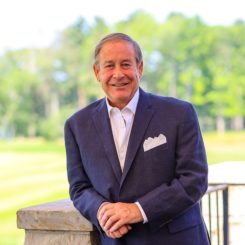 Greg Rubino
President
Gregory J. Rubino is President of the Passport Group of Companies, headquartered in Erie, Pennsylvania. He is responsible for the day-to-day operations of Passport Realty, LLC and Passport Development, LLC. Born in Erie, he attended Sacred Heart Parochial School, Cathedral Preparatory School and Gannon University. He makes his home in Erie with his wife, Lisa, and has one child, Gregory Raymond.
Greg has in the past served as a Trustee of the Multiple Sclerosis Society; Member of the President's Cabinet for the United Way; Member of the Committee for the 2004 United States Women's Amateur Golf Championship; Member of the Board of the Greater Erie Board of Realtors' Multiple Listing Service; Member the Board of the Cathedral Preparatory School Academic Excellence Foundation; and, Member of the International Council of Shopping Centers. Greg was honored as the Person of the Year by the Giuseppe Mazzini Italian-American Society of Erie, Pennsylvania in 2005.
At the request of Governor Tom Ridge, Greg led the team that developed the Benjamin Wiley Charter School, one of the leading charter schools in the region.
Greg also has served as Chairman and a Member of the Board of Roar on the Shore (one of Erie's premier tourist events with annual economic impact in excess of $20,000,000) and was Chairman of the Real Estate Committee of the Erie-Western Pennsylvania Port Authority in 2007-08, having been appointed by Governor Ed Rendell.
On behalf of some of the largest developers in the country and for numerous corporate clients, Greg has participated in the land acquisition, land sale, listing, leasing and/or development of the following properties:
Restaurants
Applebee's; Damon's; Taco Bell; TGI Friday's; McDonald's; Quaker Steak & Lube; Chuck E. Cheese's; Old Country Buffet; Golden Corral; Bob Evans, Eat 'N Park, Olive Garden, Buffalo Wild Wings and many other national, regional and local restaurant facilities, the most recent being Lakeside Beach Bar in Edinboro, PA.
Retail & Shopping Centers
Millcreek Square: 55,000 square feet+ (original tenants included Hollywood Tans, Casual Male, Norwest Financial, Sprint Cellular, Northwest Savings Bank, etc.)
Peach Tree Square: 650,000 square feet+ (original tenants included Circuit City, Home Depot, Wal-Mart, Lowe's, Media Play, Panera Bread, Verizon Cellular, Kohl's Department Store, etc.)
Summit Towne Centre: 550,000 square feet+ (original tenants included Builder's Square, K-Mart, Staples, Giant Eagle Foods, Sam's Club, etc.) In addition, the Passport Group recently acquired and redeveloped a 130,000-square-foot former Wal-Mart which has been repurposed as a fully-occupied multi-use civic and business center to serve the growing west suburban area of Erie County, Pennsylvania.
Greg also acted as the developer for the very successful $275,000,000.00+ Presque Isle Downs racetrack and casino. His company was responsible for identifying target sites for the casino; contract land acquisition; real estate management; all permitting activities with local, state and federal regulatory agencies; and selection/coordination of design professionals. Presque Isle Downs was named the Racino of the Year in 2008, worldwide. To date, Presque Isle Downs has contributed over $150 million to local governments and agencies. Greg's specific area of concentration is handling the sale or leasing of properties for third-party clients, and the permitting/ development of large-format projects such as Presque Isle Downs.
He currently also serves as President of Crawford Renewable Energy which is developing a multi-tenant project in Crawford County, PA which will feature pyrolysis technology to recycle wood chips into ultra-low-sulfur diesel fuel and bio-char.